Texas Fence Fixer
---
Fix broken barbed wire fences in a quick and pain-free way!
On the lookout for ways to safely and economically repair your loose fence? Look no further! With our Texas Fence Fixer, you won't have to call anyone to fix it for you. It's so easy, you can do it all by yourself.
Ninja New Texas Fence Fixer is a user-friendly tool that can help you to easily fix loosen fences. It is a fence strainer that can help you connect the two ends to the fence wires easily so you can pull the lever a few times in order to tighten the loose fence and finally tie off the wires. No extra assistance from another person needed.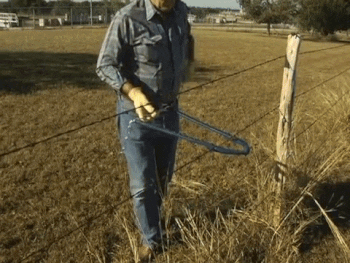 FEATURES:
EASY TO USE: When splicing wire, the tool holds the ends in place so both hands are free to make the splice. You can also simply connect the two ends to the fence wires and pull the lever a few times to tie off the wires.
SWIVEL MECHANISM: Thanks to an ingenious swivel mechanism, you can do it whether you're left- or right-handed. A fence repair tool for everybody!
WIDE COMPATIBILITY: Works with barbed wire, electric fence wire, horse fencing or net wire fence, and will work on 16 ga and up to 12.5 ga Hi-Tensile and Mild Steel wire.
TIME SAVER: No need to remove staples or tie wires, since a repair can normally be done in approximately 60 seconds. Fastest way of fixing the fence!
ENERGY SAVER: You only need to clamp one part of the fence rather than re-pulling the whole fence. As easy as that!
STRONG & RELIABLE: It has a capacity of 2,200 lbs, making our chain strainer will make a strong and reliable addition to your fencing arsenal. It is suitable for wires with a diameter of 1.5mm to 5.0mm.
SPECIFICATIONS:
Material: High-Quality Metal Material
Capacity: 2,200lbs
Weight: 3lbs
PACKAGE CONTENTS:
1 x Texas Fence Fixer
1 x User Manual