Petstory™ Dog Teeth Cleaning Tartar Removal Oral Care Gel Kit
---
Do you find it hard to clean your pet's teeth because of their slippery saliva?
Introducing World's first and most affordable Pet Teeth cleaning Tartar Removal kit to easily clean your pet's teeth at home. with its anti-slip design, the job is made a LOT easier and faster so you can focus more on removing the teeth stains.
Dog Teeth Cleaning Kit Features:
This is a pet tooth whitening pen kit Contains 2 pens. the white pen can penetrate into the gums, remove tartar and stubborn dental stains on the teeth, soften the teeth on the calculus, make the calculus lose and fall off and blue pen dental care formula, all-round care of oral and gums, anti-inflammatory, and bacteriostasis, repair gums, strong teeth, so that teeth more bright and white luster, contains natural plant fresh oral formula so that the mouth is fresh and natural.
The soft brush design is safe for pets' sensitive gums.
The anti-slip design is convenient for you to operate and help you maintain healthy teeth and a happy lifestyle for your pet.
Small head tip for those hard to reach places.
It also can prevent bad breath, repair and pain relief, care of the mouth.
How to Use: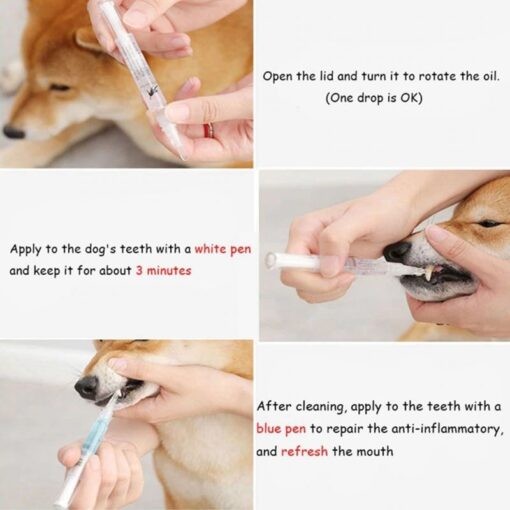 A typical treatment cycle only requires 1 kit.
If your dog has heavy tartar buildup, 2 kits are recommended.
Product Specification:
Material (pen brush): Plastic
Type: 3ml / 0.1oz,5ml / 0.17oz
Use for Dogs
Package Include:
1 x Pet  Teeth Cleaning Pen Kit