If your dog craves the freedom to run while you wish for peace of mind, you'll love our 2 in 1 Wireless Electric dog fence & Training.
It's time to train your dogs! This 2-in-1 pet containment system has a wireless dog fence and a shock collar for better training. It can cultivate good habits of pets through reasonable stimulation, making dogs more self-disciplined and prevent getting lost effectively.
Our Free to Roam Wireless Fence allows you to create a secure circular boundary around your yard without the hassle of burying the wire or installing a physical fence.
Key Features:
Advanced Wireless Signal System: We are the first one who has adopted the most advanced 2.4G frequency technology that consistently provides a more stable and accurate signal transmission than the others.
Wireless Boundary: A wireless boundary allows you to create a secure barrier around your yard to protect your pets without the time or hassle of burying wires.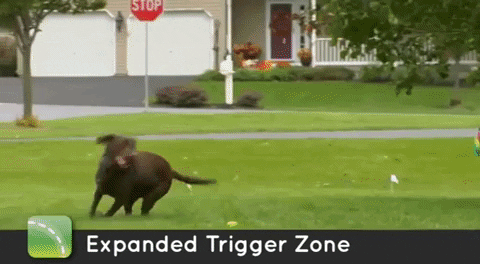 Larger Area:Wireless dog fence will create a cordless boundary with adjustable levels max to 500 feet, which can limit your dog. If the dog exceeds the activity range, beep and electric static shock will start. After several times of training, your dog will know how to act in designated areas.
Multi Dogs System: Including Two receivers. Our transmitter supports several receivers, if you have a large dog family, don't worry we've got you covered!
Safe & Stability: The shock is 100% safe to your dog as long as it is at least 10 pounds. The strength of shocks has been evaluated by Dog Training Specialists around the world. It is safe and comfortable for your Best Friend.
Ultra Durable & Waterproof: We know how destructive pets can be. The waterproof collar allows your dog to play on the wet lawn and even run on rainy days. The receiver is IP65 dust-proof and IPX7 waterproof and can be used safely in the rain and wet environments, allowing dogs to play enthusiastically.
Plug and Play Setup: Plug-In the Receiver and Adjust the Size of the Radius, Put the Collar On Your Pet and It's Ready to Go! It's Always Recommended You Train Your Dog To Learn their Boundary.
Adjustable Range: Its long-range distance gives your pet more room to run and play. The max control radius of the wireless pet fence with the center of the transmitter is 500ft. Adjust the signal intensity by pressing "+"/"-" at the range of 1-100 levels. Allowing you to give your pet the freedom and security they need, and you the convenience of setting up your wireless dog fence anywhere.
Rechargeable Battery: The receiver charges in 2 to 3 hours, and the transmitter charges in 4 to 5 hours. With normal use, the battery can last for weeks.
To set up, simply place the Wireless Containment System transmitter in a weather¬proof location, plug into an outlet, and adjust the dial to cover the perfect size area for your dog.
Important Note:
1. The wireless fence system is only for dogs.
2. Low battery power may result in intermittent operation. Don't use it and charge it immediately.
3. Don't put your collar on the dog for more than 10 hours every day.
4. Keep the receiver away from the children.
5. Please read all instructions before using this product.
Package includes:
1 x Wireless Transmitter
1/2 x Wireless Receivers
1/2/3 x Neck Straps
2 x DC-USB Charging Cable
1 x Power Adapter
1/2/3x 4-Pack Metal Contact Probes
1/2/3 x LED Test Light
1/2/3 x 4-Pack Plastic Anchors
1 x User Manual
After-sale Service: This product comes with an exclusive 2 years warranty. Simply reach us if you face any issue with the product.