This is the world's first robot mop & vacuum featuring innovative self-charging technology. With this robot, you could have all the floor cleaning done without lifting a finger!
The robot can detect the entire environment around and then build up the map inside the CPU so that it does cleaning with a plan from one room after another.
Multi-function of auto recharging, schedule cleaning, remote control, anti-falling
Humanized design with voice reminders.
High efficient cleaning: the suction power is pretty strong.
HEPA filter avoids the secondary air pollution.
The 2000mAh lithium-ion battery keeps the robot vacuum's powerful cleaning system running.
Specially designed Edge-Sweeping brush, and vacuum suction to attack everything from small particles to large debris on your carpets and hard floors.
Large Cleaning Square
This robotic vacuum cleaner can clean large areas up to 100 – 200 square meters.
Description:
Several cleaning modes selection:
1. Auto mode
The robot cleaner equipped with a specific chip for robot uses a dual-core chip with several built-in sensors and motor control coprocessors and SLAM technology so that it can adjust route automatically and detect condition with high speed. The robot cleaner finishes indoor accurate positioning and autonomous mapping function by an interstellar map detection planning mode to cleanroom more efficiently, quickly, and intelligently.
2. Spot mode
Press the spot cleaning button, it will clean the area within 1m2 and clean by spiral mode. It will automatically operate in around 2-3 minutes.
3. Mopping mode
Press the "6" button on the remote control, it will switch to mopping mode, and under this mode, the vacuum cleaning mode will stop working. (No suction power and fabric brush stop running). There are two mopping routes.
4. Low-speed mode.
Press the "7" button on the remote control, the unit will switch to low-speed mode, "H" symbol will not show on the LED display anymore. Press the "7" button on the remote control again, it will switch back to normal mode.
5. Full-Go mode
The unit will auto-start auto cleaning after fully charged, and will return to the charging station when battery low, and will operate after a full charge and repeat again.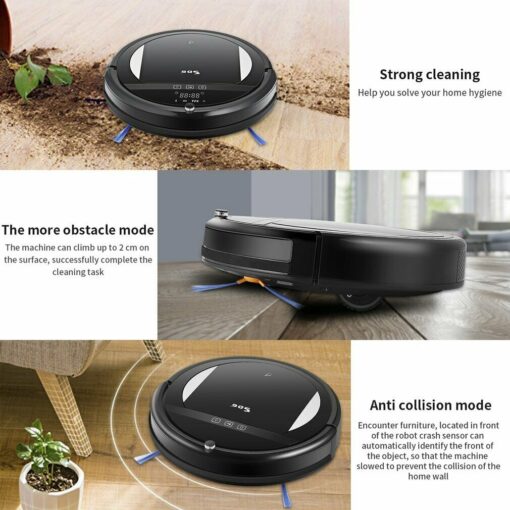 Specification:
Brand: SDG
Model: S018
Color: black
Plug: US
Input voltage: 110-240(50/60Hz)
Dustbin box capacity: 0.4L
Power rated: 20W
Power input: DC15V 600mA
Battery: 11.1V 2000mA Li-ion battery
Recharge time: 3-4 hours
Working time: 90-120 minutes
Noise:<60dB
Net weight: 2461g
Size: 310*78mm
Warranty: 1-Year Manufacturer Warranty
Package included:
1 x robot vacuum cleaner
1 x remote control
2 x slide brushes
1 x battery(built-in)
1 x power adapter
1 x cleaning brush
1 x dust box
1 x charging dock
1 x filter net
1 x mop pad
2 x mop cloth
1 x manual